God, grant me the serenity to accept the things I cannot change, courage to change the things I can, and wisdom to know the difference. Amen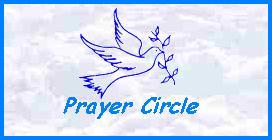 Prayers, Kind Thoughts, Best Wishes
These Friends of the PeaceClinic really need your care and your prayers. No matter what your spiritual leanings are, your positive thoughts and deeds can show that 'Paying It Forward' really is a living process. Send them a prayer and enrich your own life too.
Connect with us, share in prayers and get a free PeaceClinic
membership
while you are here. Thank you and welcome! Love and Peace. --
Chloe Joquel Freeland, Founder, PeaceClinic
God, grant me the serenity to accept the things I cannot change, courage to change the things I can, and wisdom to know the difference. Amen

May 15, 2005

Arlene and George

George is being treated for cancer. Both need the power of God's love and attention. God Speed. Their much needed van was stollen on Mother's Day. Pray that it is returned safe or insurance will help them get another van. These two support each other with friendly jokes and laughter which is the best medicine of all. Send them a greeting or a donation via the

peaceclinic@att.net

.

God, bring peace and wellness to George and Arlene. Keep their hopes up and their humor as they support each other in rough times. Help them in all ways of the material and spiritual worlds. We send them love. Please show them your love too. Thank you. Amen.

Spirit Note:
The Power of Mind in the New Biology

, an article by Bruce Lipton, Ph.D, will show you that your positive thoughts and those of people around you can help you stay healthy and heal your illnesses and help others too. This the cutting edge of science that has replaced the idea that our lives are totally determined by our genes. It is nolong a controversy. It is a revolution in science and you will be reading more about it in the popular media very soon. Click on the link above.

May 15, 2005

Kerry Museus

Kerry is overcoming a severe eating disorder that is often life threatening. Her efforts to heal herself has recently led her to a hospital stay. She is a warm and wonderful peace advocate who shares herself with victims of domestic violence and those who need love and someone to care about them. Kerry is our

Midwestern

Regional Chapter Director in Minnesota, a long time volunteer. Please pray for her speedy recovery and wellness.

God please help Kerry begin to heal and grow peaceful. She offers her love to so many others and she needs your help to find serenity and freedom. Thank you, Amen.

Spirit Note:

May 16, 2005

Susan Moore and her mother, Mary

Susan is living with the constant worry of breathing comfortably. Mary is elderly and a bit fragile and is in the hospital with pneumonia. Please as God's rays of spirit power to shine on their whole family.

God, please help Susan and Mary. Give them the strength to fight and the peace of spirit to remain calm and let the healing begin now. Love Mary and Suz and watch over them today and bring them home safe. Thank you, Amen.

They are the most prayerful people themselves and they send their love out to you. So if you need some love and luck by association, you can write to Susan, our

Eastern

Regional Chapter Director. She is a volunteer too.Please help her as she reaches out to help victim families of domestic violence and their pets.

Susan's dear friends, Carol and Dad are fighting to heal his burns received recently. Susan is doing eveything she can to support them with spiritual and neighborly help. Please take a moment and pray for all of these friends.

God, please help Carol and Dad. Give them the resources and strength to heal his wounds and restore his immune system as if fights infection and restores his body and makes him like new. Thank you. Amen

Spirit Note:

As I read the book,

'Paying It Forward'

,

I could not help thinking of the people who sent prayers, cards, phone messages, and financial donations to help my husband Rich as he struggled with cancer. Friends in the PeaceClinic continue to help me. I want to give it back by paying it forward. The concept of Paying It Forward is powerful and may be the

only hope

for the human race.

05-18-2005

Rob Mathews, Jim Mancuso's cousin, has been diagnosed with terminal cancer.

Jim has had so many losses in his young life.

God, please help Rob find the strength of body, mind and spirit to fight this cancer and bring him back to health. Thank you. Amen

PeaceClinic programs are making a difference!
The PeaceClinic Institute is a non-political, non-religious, non-sectarian and privately funded educational organization.
Copyright © 2001-2014 PeaceClinic Institute for Consciousness Research. All Rights Reserved by Chloe Joquel Freeland, Founder and Director.